Information For
Property Owners
Flooding in Utah is more common than you might think. It is one of the most expensive natural disasters in Utah and costs are climbing every year along with flood frequency. Damaging floods can happen any place where rain occurs—and that means anywhere!
There are however, some areas of increased risk due to both natural geography and urban development patterns. The Risk MAP program creates floodplain maps to inform communities and properties owners of the location of this increased risk. Once we know where these areas of heightened risk are, communities and property owners can work together to manage the risk.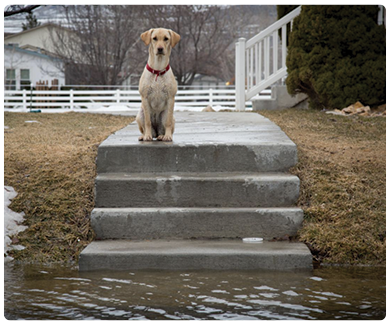 Steps to Reduce Your Flood Risk
step one
Understand
Your Risk
Is your home or property in a mapped floodplain?
---
---
Take steps that will make you and your property more resilient.
---
step three
Insure
Your Risk
Get compensated for flood damage.
---
Did you know that standard homeowner's insurance does not cover flood damage?
Explore your options below.
---
Explore FEMA's post-disaster resources for individuals and businesses.
---
The FEMA Hazard Mitigation Grant Program (HMGP) helps communities implement hazard mitigation measures following a disaster.
Also after a Presidential Declaration, you may be eligible for the following:
How to Read and Understand Flood Maps
---
The National Flood Hazard Layer (NFHL) Viewer allows you to easily access a repository of current flood risk data for most populated areas of the country. Use it to see information for a specific location or address. You can also save or download a map of your area of interest.
---
Need help? Call the FEMA Mapping and
Insurance eXchange (FMIX)
---
Specialists at the FEMA Mapping and Insurance eXchange (FMIX) Customer Care Center can help you with questions about flood mapping and insurance. The FMIX provides the full range of information you need to make informed decisions about both insurance and risk to protect the life you've built. The FMIX also connects customers with technical experts specializing in subjects like modeling, GIS mapping, insurance underwriting and claims, and the Hazus loss-estimation software.